OCM completes new boat delivery to Texas Department of Public Safety
December 09, 2022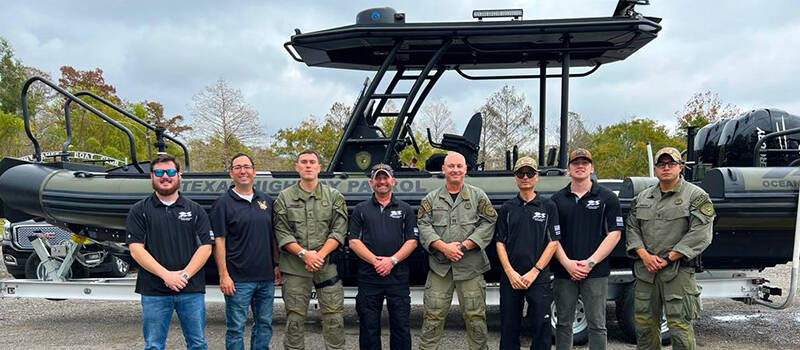 A new boat delivery to the Texas Department of Public Safety, Texas Highway Patrol, Tactical Marine Unit (TMU)

Ocean Craft Marine (OCM) based in Annapolis, Maryland, has just completed a new boat delivery to the Texas Department of Public Safety, Texas Highway Patrol, Tactical Marine Unit (TMU). This delivery was for the first boat of eight identical boats designed and built under two contracts with the Texas State Government.
The Texas Highway Patrol Tactical Marine Unit (TMU) assists local and federal partners in targeting illicit drugs and human trafficking organizations through reconnaissance and visible patrols it the intra-coastal waterways and Rio Grande River. The Tactical Marine Unit provides a law enforcement presence along the national border to prevent acts of terrorism and spillover violence from transnational organizations that exploit our nation's border.
Ocean Craft Marine delivered this 9.5M to the Texas TMU while simultaneously participating in the International Workboat Show in New Orleans, Louisiana where the Texas boat was on display for three days.
The Texas 9.5M Law Enforcement (LE) Interceptor Rigid Hull Inflatable Boat (RHIB) represents the latest innovations in high-performance RHIB design and incorporates all the elements most desired by our maritime law enforcement community to include many features and benefits such as: a hybrid CE closed-cell foam-filled tube-set, a heavy-duty full coverage T-top, mission-modular and re-configurable shock-mitigating seating custom built by Shockwave Seats®, a robust aluminum bow-guard with pushing knees, a long arms storage solution, a mounted crew serve weapons capability, advanced navigation and communications electronics to include color video, thermal imagery and a digital wireless headset crew-communication system from the David Clark® Company.
The OCM 9.5M Patrol Boat is powered by twin Mercury Marine® Verado 350 Pro Outboard Motors controlled by Mercury Racing's Digital Zero Effort Digital Throttle Shift (DTS) Control Binnacle while also utilizing Mercury's® new Active Trim® technology which increases fuel economy and mission range by providing instant and effortless automatic trimming of the outboard motors. The TMU boat's on-water performance is truly remarkable with an incredible lightning quick hole-shot and time-on-plane, a top speed of 62 MPH and with very predictable heavy weather seakeeping characteristics and the ability to carve amazingly tight high-speed tactical turns due to Ocean Craft Marine's concave reverse-chine design Air-Hull®
"…this year, the Workboat Show was another huge success for Ocean Craft Marine and we are so grateful to the Texas Highway Patrol for permitting us to display their brand new boat design in the show for all of the boating industry to experience," said Todd Salus, OCM's Vice President.
The Marine Tactical Unit, intends to take delivery of the remaining boats before the end of January 2023 and with follow-on training for the boat crews to happen in Texas.